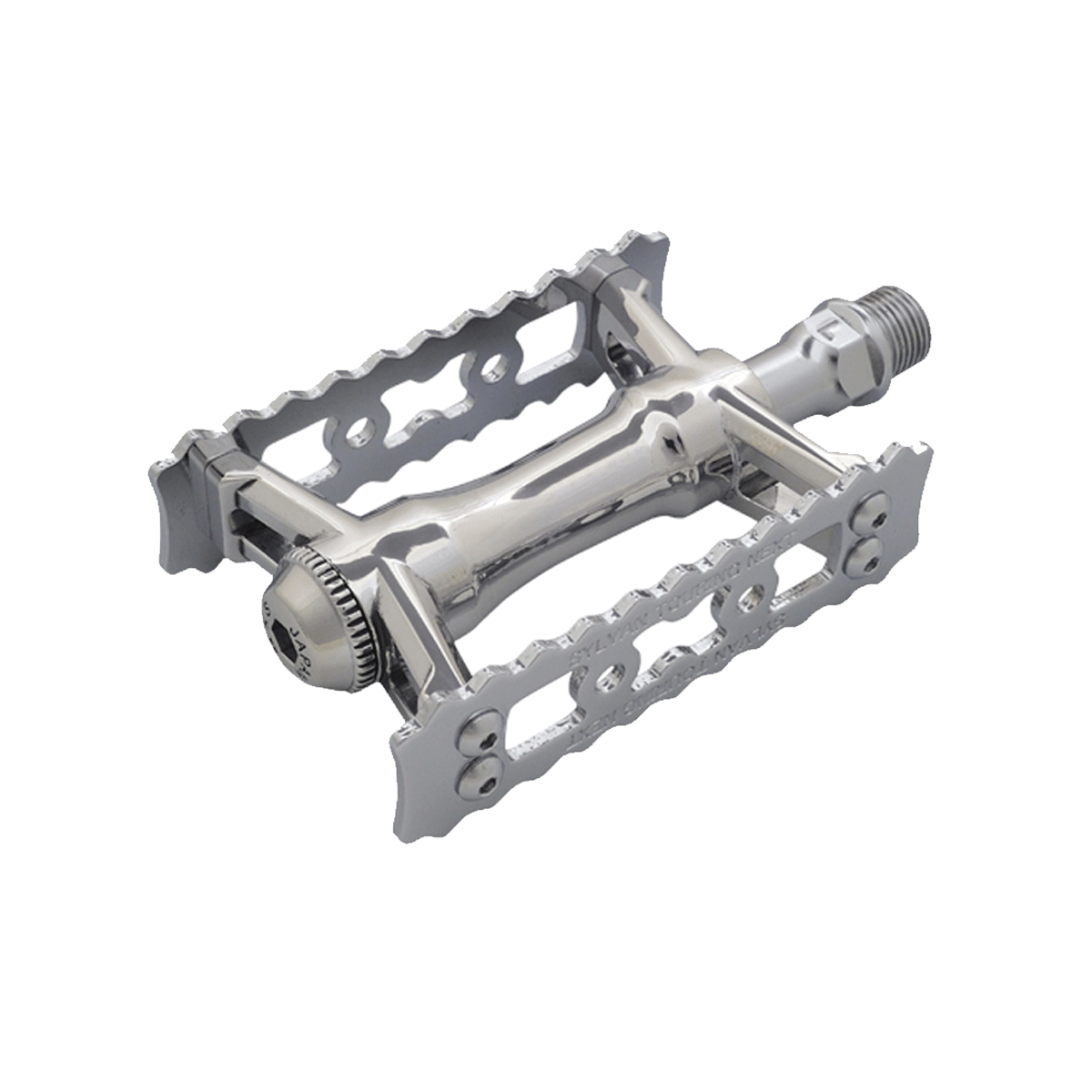 MKS Sylvan Tour Next Pedals
MKS
99334987
Upgrade to the NEXT stage while maintaining traditional styling
Probably the best classic touring pedals ever made. MKS took their popular Sylvan model and added their best, silky-smooth cartridge bearings. The Sylvan Next combines ultra-high quality with versatility: With platforms on both sides, you can use them with street shoes; add toeclips and straps, and they perform like a traditional racing pedal.
Made in Japan

The Sylvan Touring pedal has the largest step area in the Sylvan line, offering various foot position over a 94X63mm area to prevent fatigue. The pedal is double sided and it is compatible with toe clips and straps to prevent slipping. This pedal works well for a wide variety types of shoes, as the cage plate tooth profile is grippy but not particular aggressive.

The Sylvan Touring Next is the first major upgrade to our popular Sylvan Touring which was first released in 1979.

The Sylvan NEXT is our new premium level of pedals that maintains the Sylvan's traditional styling while reducing the pedal weight by 53 grams.

Sylvan NEXT pedals use our Triple Sealed Cartridge Bearings- providing a remarkably smooth and maintenance-free rotation at a lighter weight than cup and cone bearings. The low drag bearing improves pedaling efficiency, making the NEXT series ideal for long distance riding

Sylvan NEXT pedals use screws to fasten the plate to the pedal body making them replaceable- or customizable.

To match the improved performance, we have upgraded the finish of the Sylvan NEXT pedals. The Sylvan NEXT is available in high polish chrome plated mirror finish on the axle, pedal body, and step plates or chrome plated axle with black pedal body and spindle.The highly polished chrome plated spindle has extremely strong anti-corrosive qualities, providing enhanced durability to salt and water.

The Sylvan Touring NEXT is available with our patented Ezy Superior quick release pedal system, known as the Sylvan Touring NEXT Ezy Superior. Once installed, the Ezy Superior system allows for safe, rapid, and toolless removal of pedals for travel, storage, or flexibility. Particularly popular as an upgrade for folding bicycles, those who take their bikes on mass transit, or travel bikes with coupler systems our Ezy Superior system can dramatical improve ride quality while saving space
If the plastic pedals supplied with some of our new bikes are not quite to your liking, but you want to keep with a traditional pedal with extremely high build quality this is the pedal for you!